NICK BROWN
My name is Nick Brown,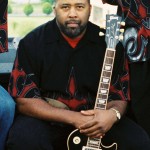 I am a native of St. Louis, Mo. I'm a product of the 50's. I guess I've always had a passion for music, enough to teach myself a few instruments like the drums, piano, and my favorite, guitars. By the time I was in junior high school I had my first band (playing the piano and some guitar) in the school's talent show. We were the only band in the talent show. This was the early 70's and we called ourselves The Black Associates. By High school, I had developed an interest in Jazz, and had become more proficient at guitar playing.
I was united with some now life long friends in a fusion jazz band named Alexis. Over the next 30 give or take years, I had met, and played vast range of musicians, a learning experience from all. My passion just kept growing. I, more recently served as the music director, sound engineer and lighting for a popular local R&B band named THE POWERPLAY BAND. After I suffered a stroke in 2011, I feared my adventure was over. I now find myself as the Operations Manager for TBeats Studios STL, a new and innovative music production company based in St. Louis Mo. A new and exciting adventure for me as I can still express my passion for music through others (the youth which is our focus.) And the journey continues.