TBeats Studios is thrilled to announce the newest member of our internship program with engineers. A Webster University Senior, Brandy Lawhorn brings a well-rounded education along with knowledge of our superb SSL board that takes artists music to the next level. Brandy has been in training for the last few weeks and is already up to speed on all of the equipment in the studio. Next time you are in the area stop by or call us so that you can set an appointment in the studio to record with this creative young lady.
Bio – Brandy Lawhorn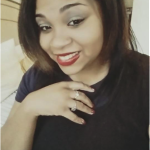 The reason I am who I am today is all because of my father and the support of my family. My whole family are singers, but it was my father, a.k.a Mr. Poochie himself who brought the passion and drive for music into my life. I was that kid that sat on his lap while he clicked on different icons that layered his computer screen. I wrote my first song at the age of 8 and recorded it at Jupiter Studios, the winter of 2002. What started out as simple lyric writing became melodies, became rhythm, and became my drive. In the tenth grade I was faced with the question of what I want to do when I go to college, and here I am today living my dreams. I am a senior at Webster University. Audio Engineering is my major. I have worked with many artist and all types of music genres. I enjoy mixing and creating audio creativity. I also write music and perform vocally. My very best is given at all times, and artist praise my work ethic, and the ability to meet deadlines. Making sure that everything is in order is the best skill that I have, because my life is built around that very concept.
Examples of my work can be found on blaepro.com