TBeats is extremely excited to work with Webster University and their business and music production schools to offer internships to deserving students. Meet our newest intern in the marketing department, Ina Griesohn! Ina will report to Syl Wilson, Business Development Officer and Marketing Director for TBeats Studios and TBeats Entertainment. Ina was selected from a long list of candidates and it was her persistence, desire to learn and passion for the music industry that ultimately lead to her joining the team.
Bio –  Ina Grie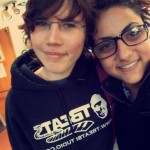 Ina Griesohn was Born in 1988 in a small town in Germany.  From the Beginning Ina loved to listen and dance to music, and to produce Media Artwork.  Music always has been an important part of her life as she continued to expand her knowledge and skills.
As an International Student at Webster University with a major in Media Communication and a minor in Advertising and Marketing Communication, Ina expanded her knowledge around Media and Communications. She earned her Associate degree in Arts at Saint Louis Community College in 2011. At college, she became a member at Phi Theta Kappa Honor Society and Tau Sigma. Due to her achievements, she got awarded several honors.